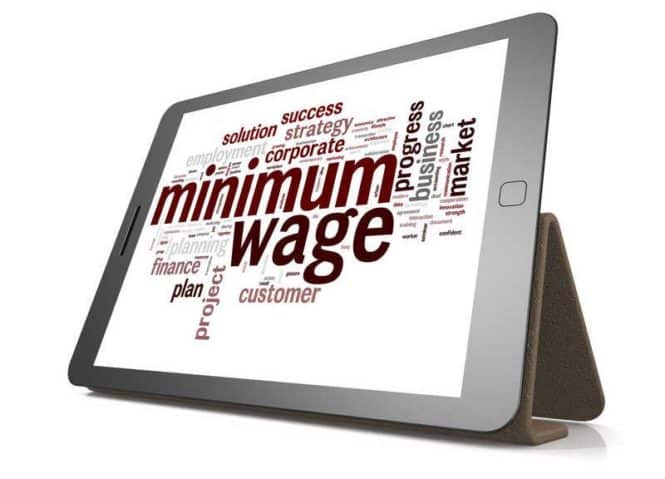 Restaurant Employee Training Programs
The interesting conflict between the New York Times and an article they did on employees paying for lobbyists to keep their wages low. A variation on wages and employees.
In today's fast and furious culture next, you have the NRA issue an instant rebuttal of the article (within 12 hours).
Media outlets certainly prefer to sensationalize in their pursuit of eyeballs.  Forbes and Wall Street Journal demonstrated that with slash articles on self-checkouts in supermarkets. The writers only use what serves their purpose as a rule.  Our first thought was it sure wouldn't surprise us.
We have followed the minimum wage arguments for over 10 years and no doubt the NRA always sided with Mcdonald's and the CKE Puzders of the world.  They have historically warned of the catastrophic effects of raising wages but seem to have a problem using Costco as an example of higher wages crippling a business. Fairly low margins in Costco we think…
You have McDonald's these days advocating for higher wages.
McDonald's is among fast-food franchises to raise wages in a tight labor market and plans to reach an average of $15 an hour by 2024 at all company-owned restaurants.  Competition for workers is intense and food franchises like McDonald's and Chipotle are competing with retailers like Amazon, Walmart and Target, McDonald's CEO Chris Kempczinski noted in a recent CNBC Evolve interview. Labor experts say McDonald's move will pressure the 95% of its restaurants not owned by the company, and at least some McDonald's franchise owners say it is time to raise wages and think long-term. CNBC
And then on the otherside you had all the speculation that kiosks were going to eliminate employees.  Nope. That never came to happen either.  KIosks and order terminals and channels have redistributed employees and increased utilization and effectivity but that translated into better-served customers who come back and buy more. Meanwhile we are getting close to robotic dishwashers. In our opinion a good job for a robot.
We're a little surprised the NRA wasn't more detailed in its rebuttal and doesn't provide any of that data to us that the NY Times writers supposedly ignored.  Lots of the expected adjectives.
Not often you get to see a very profitable industry association sparring with a NY-based media outlet.
Pass the popcorn?
In Brief Summary
NY Times

Employees must pay ServSafe $15 for online health safety training
Minimum wage has risen just one since 1996
25M since 2010 (more than NRA spent on lobbying)
NRA declined to be interviewed
NRA historically fights higher wages
ServSafe added profit w/o raising member dues

NRA Response

misrepresents our work
paints unfair picture
reporters not interested in our data
largely inaccurate and distorted reporting
ServSafe protects consumers
sensationalized narrative biased story
Everybody knows what we do
More content
Historical wage content
More Posts
NRA response
This morning, the New York Times published a story (How Restaurant Workers Help Pay for Lobbying to Keep Their Wages Low) that misrepresents our work in support of the industry through largely inaccurate and distorted information.
The article paints an unfair picture of this Association's great work on behalf of restaurants and the workforce across America and minimizes the critical role ServSafe programs play in protecting the public from foodborne diseases. Unfortunately, the reporters for this story were not interested in using the extensive data and facts we provided. Despite answering dozens of questions and providing multiple fact checks, they chose not to include our data as it didn't fit the negative angle they had in mind for this article. Instead, they pushed a sensationalized narrative that falsely attacked the very mission of our association—to serve this whole industry.
While we are disappointed they chose to pursue such a biased story against the restaurant industry, we know, and our members know, where our intentions and actions are rooted. The reporters describe the cost of our ServSafe food safety courses as an "annoying entrance fee to the food-service business." The restaurant industry understands that safe-food-handling education is critical to protect customers, operators and their teams.
For more than 100 years, our members have counted on the National Restaurant Association to advocate on their behalf through education, in courts and on the Hill. We champion the industry's success, supporting operators and the millions of employees that work in restaurants. We are proud of the priority the industry places on community, opportunity and food safety training to keep guests, workers, and the community safe. We remain committed to our mission, to serve our industry and support its success.
WASHINGTON — For many cooks, waiters and bartenders, it is an annoying entrance fee to the food-service business: Before starting a new job, they pay around $15 to a company called ServSafe for an online class in food safety.
That course is basic, with lessons like "bathe daily" and "strawberries aren't supposed to be white and fuzzy, that's mold." In four of the largest states, this kind of training is required by law, and it is taken by workers nationwide.
But in taking the class, the workers — largely unbeknown to them — are also helping to fund a nationwide lobbying campaign to keep their own wages from increasing.
The company they are paying, ServSafe, doubles as a fundraising arm of the National Restaurant Association — the largest lobbying group for the food-service industry, claiming to represent more than 500,000 restaurant businesses. The association has spent decades fighting increases to the minimum wage at the federal and state levels, as well as the subminimum wage paid to tipped workers like waiters.
The federal minimum wage has risen just once since 1996, to $7.25 from $5.15, while the minimum hourly wage for tipped workers has been $2.13 since 1991. Minimums are higher in many states, but still below what labor groups consider a living wage.
For years, the restaurant association and its affiliates have used ServSafe to create an arrangement with few parallels in Washington, where labor unwittingly helps to pay for management's lobbying. First, in 2007, the restaurant owners took control of a training business. Then they helped lobby states to mandate the kind of training they already provided — producing a flood of paying customers.
More than 3.6 million workers have taken this training, providing about $25 million in revenue to the restaurant industry's lobbying arm since 2010. That was more than the National Restaurant Association spent on lobbying in the same period, according to filings with the Internal Revenue Service.
That $25 million represented about 2% of the National Restaurant Association's total revenues over that same period, but more than half of the amount its members paid in dues. Most industry groups are much more reliant on big-dollar donors or membership support to meet their expenses. Most of the association's revenues come from trade shows and other classes.
Tax-law experts say this arrangement, which has helped fuel a resurgence in the political influence of restaurants, appears to be legal.
But activists for raising minimum wages — and even some restaurant owners — say the arrangement is hidden from the workers it relies on.
"I'm sitting up here working hard, paying this money so that I can work this job, so I can provide for my family," said Mysheka Ronquillo, 40, a line cook who works at a Carl's Jr. hamburger restaurant and at a private school cafeteria in Westchester, California. "And I'm giving y'all money so y'all can go against me?"
Ronquillo is also a labor organizer in California. She said that she had taken the class every three years, as required, and that she never knew ServSafe funded the other side of that fight.
As workers have become more aware of how their payments to ServSafe are used, something of a backlash is developing. Looking ahead to coming battles over minimum wages in as many as nine states run by Democrats, including New York, Saru Jayaraman of the labor-advocacy group One Fair Wage said she was encouraging workers to avoid ServSafe.
"We'll be telling them to use any possible alternatives," Jayaraman said.
The kind of class that these workers pay for, called "food handler" training, is offered by ServSafe or its affiliates in all 50 states and the District of Columbia. But online databases maintained by the National Restaurant Association show the vast majority of its classes are taken in four large states where food-handler classes are mandatory for most workers: Texas, California, Illinois and Florida.
Other companies also offer this training. But restaurant industry veterans say that ServSafe is the dominant force in the market — to the point that some restaurant owners said they did not realize there were alternatives.
"ServSafe is very much the Kleenex" of the industry — a brand that defines the business, said Nick Eastwood, who runs a competitor called Always Food Safe. "We believe they've got at least 70%-plus of the market. Maybe higher."
The president of the National Restaurant Association, Michelle Korsmo, declined to be interviewed. In a written statement, she said the group had sought to protect both public health and the financial health of the industry.
"The association's advocacy work keeps restaurants open; it keeps workers employed, it finds pathways for worker opportunity, and it keeps our communities healthy," Korsmo wrote. Her group declined to say how much of the training market it captures.
As money flowed in from the National Restaurant Association's training programs, its overall spending on politics and lobbying more than doubled from 2007 to 2021, tax filings show. The national association donated to Democrats, Republicans and conservative-leaning think tanks, and sent hundreds of thousands of dollars to state restaurant associations to beef up their lobbying.
During the Clinton and Obama administrations, the association was a major force in limiting employer-provided health care benefits. And though pressure from liberal groups has grown and workers' wages have fallen for decades when adjusted for inflation, the group helped assemble enough bipartisan opposition to scuttle a bill in 2021 to raise the federal minimum wage for all workers to $15 per hour over five years.
The association had also won a series of battles over state-level wage minimums, though its fortunes reversed last year. Both the District of Columbia and Michigan moved to eliminate the "tip credit" system — where restaurants are allowed to pay waiters a salary below the minimum wage, on the expectation that tips from customers will make up the rest. That was the first time any state had eliminated the tip-credit system in more than 10 years.
Legally, the National Restaurant Association and its state-level affiliates are a species of nonprofit called a "business league," with more freedom to lobby than a traditional charity.
Since the 1960s, their lobbying has focused heavily on the minimum wage — arguing that labor-intensive operations like restaurants, which employ more workers at or near the minimum wage than any other industry, could be put out of business by any significant increase in employee costs.
Fifteen years ago, they had just lost a battle in that fight.
Over the association's objections, Congress had raised the minimum wage to $7.25 an hour. Former board members said they were searching for a new source of revenue — without asking members to pay more in dues.
"That's when the decision was contemplated, of buying the ServSafe program," said Burton "Skip" Sack, a former chair of the association's board. "Because it was profitable."
At the time, the ServSafe program was run by a charity affiliated with the restaurant association. The association bought the operation, transforming it into an indirect fundraising vehicle.
After that, state restaurant associations in California, Texas and Illinois lobbied for changes in state law.
Previously, those states had required food-safety training for restaurant managers, which typically was paid for by restaurants themselves. After the association's takeover of ServSafe, lobbying records show, the state affiliates pushed for a broader and less-common type of mandate, covering all food "handlers" like cooks, waiters, bartenders and those who bus tables.
The three state legislatures agreed, in lopsided votes.
In written statements, the state restaurant associations said they were not trying to raise money. Instead, they said they worked with other groups seeking to reduce food-borne disease.
"This law was happening with or without our participation in the process," said the president of the California Restaurant Association, Jot Condie. California legislative records show his association was the sponsor of the bill that imposed the mandate.
ServSafe soon had waves of new customers, which in turn generated more money for the association and its lobbying efforts. Today, Florida, California, Texas, Illinois and Utah all imposed similar requirements. John Bluemke, a senior vice president for sales at ServSafe from 2002 to 2010, said there was little need to pursue mandates in smaller states: "Once you did the big states, who cares about Nebraska?"
"If you've got a million people going through that thing, do the math," Bluemke said. The National Restaurant Association does not release figures about the cost of offering food-handler classes, but Bluemke said that — because they are generally offered online — the costs are low and the profits high.
"We always said the first course costs you a million dollars," Bluemke said, for making the video. "And the rest are free."
When managers take mandatory training, restaurant veterans say, the employer usually pays. But state websites say that restaurant employees should expect to pay for these classes themselves, and restaurant workers interviewed by The New York Times said that was their experience.
The restaurant association notes that some employers have covered the costs of getting certified and that employees are given lower rates in certain circumstances. So not all 3.6 million workers paid $15 each.
"The NRA is different from most traditional trade associations in our business model," Dawn Sweeney, the National Restaurant Association's CEO at the time, wrote to members in 2014 — reminding them of what a good deal they had.
Business leagues, which are tax-exempt, are generally allowed to run a for-profit business, as long as it advances the common interest of their broader trade. The National Restaurant Association contends that its business cleanly fits this standard.
"The rules the IRS has passed are not always clear as to what is and is not allowed," said Anna Massoglia, an investigations manager at OpenSecrets, a nonpartisan group that tracks the flow of money in politics. "This makes it easier for groups to exploit that lack of clarity. I'm not familiar with another group that has done it to this scale."
The IRS declined to comment, citing taxpayer-privacy rules.
For restaurant workers, there is little clue that money paid to ServSafe supports lobbying — much less lobbying that tries to keep workers' pay low. The only hint is a line on ServSafe's website, saying it "reinvests proceeds from programs back into the industry."
Even some members of the restaurant association — the beneficiaries of this arrangement — said they did not know how it worked.
Johnny Martinez, a Georgia restaurateur, said he supports a $15 minimum wage and pays at least that much in a state where it is still $7.25 per hour. And he describes his association membership as "the price of entry" for navigating the industry, "even though I disagree with them on a lot of things."
But he expressed frustration upon discovering the connections between ServSafe and lobbying efforts, saying "it feels very wrong" to him.
"This is a certification that's also wrapped up inside of a lobbyist," Martinez said. "It is weird that the tests that they require the workers to pay for are being run by the same company that's fighting to make sure those people don't make more money."
© 2023 The New York Times Company